Are you looking for engaging Colombia team building programs that actually make a difference?
Then you're at the right place!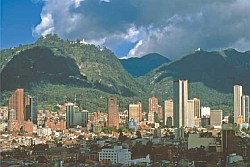 Give your team the advantage with our Colombia team building programs ranging from 1-hour energizers to multi-day team building or leadership development retreats. The possibilties are endless. See our programs page for details.
Experienca works with groups such as yours from around the world to create experiences that truly make a difference. Whether you are looking for a fun team bondingevent or a more in depth team building or organizational development retreat, you can count on our years of experience to make it happen and deliver amazing results.
"I would like to express to you my gratitude for your efforts in coordinating a most outstanding activity. I received many favourable comments – one of the participants told me it was the best activity they have had in years!"

Christiane Lavoie, Professional Education
Hoechst Marion Roussel
Our background is in team, leader and organizational development. Not only are our programs fun and engaging, but they are designed using the science and technology of experiential learning, peak performance and organizational effectiveness so that you get thebest results possible. We are the real thing. Not an adventure or event company masquerading as a team building organization.
Benefit from our high-quality "boutique" approach. Organizations around the world have profited from our expertise to make a difference and move to a higher level of results. You can too.
Top Colombia Team Building Ideas:
Use Bogota's "Transmilenio" or Medellin's amazing SkyTrain as part of your "Urban High Tech Adventure Race"
Colombian resorts and eco-lodges are great locations for our multi-day retreats focussing on vision, mission, strategic planning and leadership development. You can even learn from the ancient wisdom of indigenous people in one of the many indigenous communities in Colombia.
Reach new heights on a Heli-Quest into the nearby Andes Mountains.
If You're Considering Colombia as the Location for Your Next Corporate Program:
Colombia is one of the most geographically diverse countries in the world with a population that is so friendly that you won't be able to help but fall in love with the place. From the world class metropolises of Bogota and Medellin to remote mountain and jungle retreats, this place will give you memories that you'll treasure for a lifetime. 
If you are a local company or an international company doing business in Colombia, you already know what I'm talking about. If you're looking for a unique and spectacular place to do your corporate retreat or incentive, you're really in for a treat.
Colombia's major cities are amongst the safest in South America. The media sensationalism that gave Colombia it's dangerous reputation was never accurate in the first place and what instability there was 10-15 years ago has been reduced to negligible levels.
What this all means is that Colombia is one of the best deals going and you can take advantage of it before Colombia gets "rediscovered".
Our Colombian program team based in Bogota is fluently multi-lingual and ready to give you the experience of a lifetime!